Estimating Shirt Sizes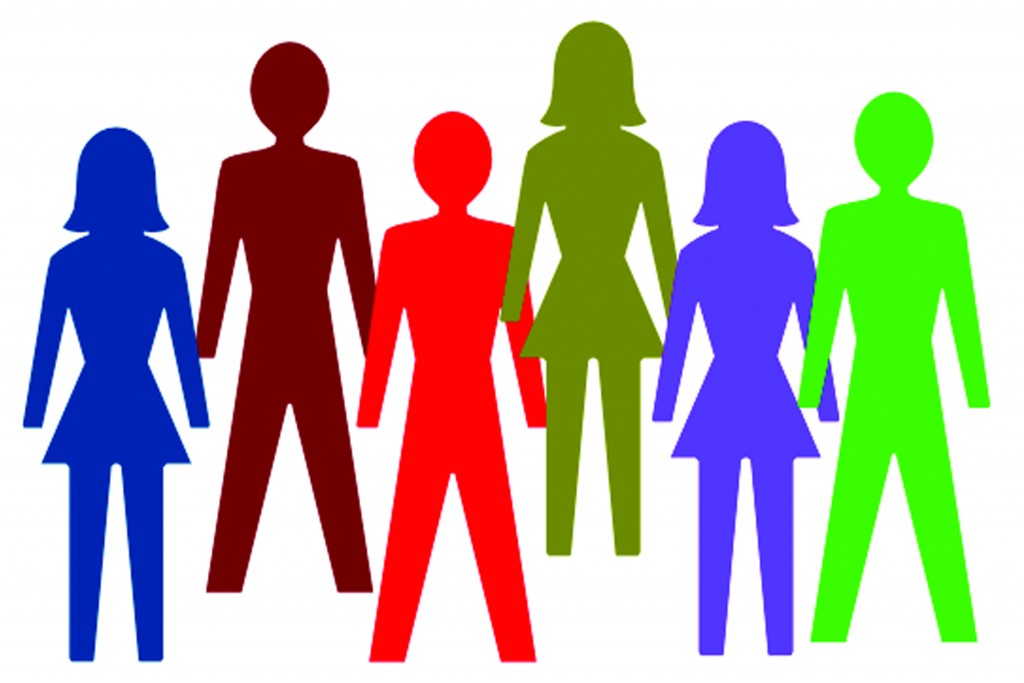 (A) Estimating shirt sizes for a group of strangers:
Here are some tips for ordering t-shirts for resale or for special event giveaways…
1. Decide what styles/cuts you'll offer.
(a) Will you offer both youth and adult sizes?
(b) Will you offer both unisex cuts (men's) and smaller/fitted tees for juniors or women?
*Tip: If you are on a tight budget, stick with adult (unisex) sizes and pad the size SMALL for any children who may be present.
2. Assign percentages to the different age groups that you expect to be at your event.
For example… if you are planning a 5K Race, you might have: 5% young children, 10% teens, 45% women, and 40% men.
3. Order shirt sizes based on these percentages per age category.
YOUTH SIZES:
Children grades K-3: 50% SMALL, 50% MEDIUM
Children grades 4-5: 50% MEDIUM, 50% LARGE
ADULT SIZES – TEENS:
Teens grades 7-8: 40% SMALL, 40% MEDIUM, 18% LARGE, 2% XL   
Teens grades 9-12: 25% SMALL, 40% MEDIUM, 30% LARGE, 4% XL, 1% XXL
ADULTS SIZES – ADULTS:
Women: 16% SMALL, 33% MEDIUM, 33% LARGE, 16% XL, 2% XXL
Men: 20% MEDIUM, 40% LARGE, 35% XL, 5% XXL
Even combination of women and men: 10% SMALL, 25% MEDIUM, 35% LARGE, 25% XL, 5% XXL
4. Order sizes in even dozens when possible.
Our shirts are bundled in dozens, and it's easier to count and keep up with your inventory this way.
Just round your percentages into even dozens per size:
12, 24, 36, 48, 60, 72, 84, 96, 108, 120, 132, 144, 156, 168, 180, 192, 204, 216, 228, 240, 252, 264, 276, 288…
(B) Estimating shirt sizes for a group of known individuals:
When you are familiar with the ages, sexes, and approximate sizes within a group of people you know, estimating shirt sizes can be made easier with these charts that list the average shirt sizes for each category.
YOUTH SIZES:
Age 2… weight 25-27 lbs… size 2T
Age 3… weight 28-32 lbs… size 3T
Age 4… weight 33-36 lbs… size 4T
Age 4-5… weight 36-42 lbs… size Youth XS… also known as "Size 2-4"
Age 6-8… weight 43-55 lbs… size Youth Small… also known as "Size 6-8"
Age 9-12… weight 56-73 lbs… size Youth Medium… also known as "Size 10-12"
Age 13-16… weight 74-100 lbs… size Youth Large… also known as "Size 14-16"
*Youth XL is close in size to an adult small, but it is shorter in length.
JUNIOR LADIES (TEENS):
(This is a smaller, fitted cut, typically with cap sleeves.)
Size 0-2… Junior's Small
Size 4-6… Junior's Medium
Size 6-8… Junior's Large
Size 10-12… Junior's XL
WOMEN'S ("MISSY"):
(This is a larger missy cut, typically styled by shorter sleeves and shorter length than the men's cut.)
Size 2-4… Women's Small
Size 6-8… Women's Medium
Size 10-12… Women's Large
Size 14-16… Women's XL
Size 18-20… Women's XXL
*Your Koala Tee representative will confirm whether the shirt you chose is a "junior's cut" or a women's cut."
MEN'S/UNISEX SIZES:
For standard tees, men usually know their t-shirt size.
Example: For a man of average height and stature (5'7″ height, 160 lbs.), size LARGE usually fits just right in a standard tee.
For "fashion/slim fit" tees (like Canvas brand), you may want to go one size larger than your standard t-shirt size. These fashion/slim fit tees are meant to fit tight against the skin.
***Keep in mind that each product that we offer has specific measurements on the online catalog link for that product. Just click on "Specifications" or "View Specs" on the catalog page.
***When still in doubt, you may visit our showroom to try on samples to find your perfect fit.