Polo Shirts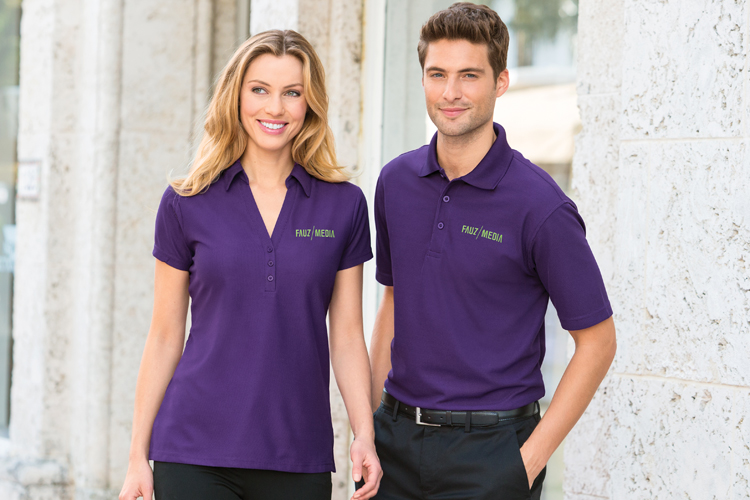 Polo shirts (also known as sport shirts, knit shirts, or golf shirts) are classified as shirts that have a collar and typically 3 to 4 buttons on the upper placket. Koala Tee offers custom screen printed and embroidered polo shirts in a wide variety of materials, cuts (short sleeve, long sleeve, men's/women's, with a pocket, tall) and colors.
Main Categories:
(1) 100% Polyester (Commonly referred to as Performance, Dri-fit, or Wicking)
(2) 100% Cotton
(3) 50/50 Cotton/Polyester Blend
We are often asked: Which material will keep me as cool as possible?
The answer really depends on the individual, the environment in which they will be working or playing, and the weight of the fabric. In general, we tell our clients…
When you sweat:
(1) Your 100% polyester shirt will typically dry the fastest, and (if you choose the right size) the shirt will feel very lightweight against your body.
(2) Your 100% cotton shirt will absorb your sweat, feels cool against your skin, and can lower your body temperature.
(3) A 50/50 Cotton/Poly blend offers characteristics of both.
We have hundreds of options available, so to try and make it easy on you, we've outlined our best sellers in each of these categories.
*Women's coordinating cuts can be viewed by clicking the styles listed as "companions" on these links below.
Best Sellers:
100% Polyester:
Value:
Core 365 Origin Performance Pique Polo 88181
Port Authority Dry Zone Grid Polo K572
Mid-priced:
Harriton Micro Pique Polo M354
Sport-Tek Micropique Sport-Wick Polo ST650
Premium:
Nike Dri-fit Micro Pique Polo 363807
Ogio Caliber 2.0 Polo for Men OG101 and Ogio Jewel Polo for Women LOG101
Adidas Golf Climalite Polo A130
Cornerstone Snag-Proof for Extreme Industrial and Tactical Work Environments
100% Cotton:
Devon and Jones Pima Cotton Pique D100
Devon and Jones DRYTEC20 Perfomance Polo DG150
50/50 Blends:
Gildan DryBlend Jersey Knit Polo (Unisex, Industrial, Value-priced) G880
Port Authority Silk Touch Polo Series K500
In addition to these best sellers, we have hundreds of other options. You can search all options by clicking on the links below.
Online Catalog link to these Polo Shirt Brands:
Adidas Golf
Alo Sport
Alternative
Anvil
Ash City
Bella + Canvas
Core
Devon and Jones
Dickies
Gildan
Hanes
Harriton
Jerzees
North End
Russell Athletics
Team 365
Online Catalog link to these Polo Shirt Brands:
Cornerstone
District Made
Nike Golf
Ogio
Port Authority
Red House
Sport-Tek